Well it's been awhile since I promised I would share this dress review and tell you who I had dinner with and I'm finally coming clean with everything.  Joey and I were fortunate enough to be invited by the Bailey's to dinner with Jo Packham and boy was I thrilled.  She was so much fun and I was overjoyed when I got there and the chair next to her was empty (score!).  And if that wasn't enough, we were joined with Summer Bellessa from Eliza Magazine and Girls With Glasses and her husband Kerry.  I have to confess I finally impressed my oldest daughter with the whole Eliza Magazine name drop (my children do not appreciate my name dropping so it was great to get a reaction finally!).  And to make it even better, we were also joined by Diane and Wendy who own Melrose Vintage, a local store that specializes in Shabby Chic decor (they were the nicest and I need to pay them a visit!).
I knew I needed something new to wear and I'd been meaning to make this dress using Butterick 5130 for quite some time.  I first saw the dress here  and here (via Pattern Review) and instantly loved it.  She does a wonderful review so I'm not going to repeat it all here (it's worth looking at, as is the rest of her blog).  I was able to track down a pattern on ebay since it is, sadly, out of print. 
I made the size 12 dress (once again ignoring the pattern advice and dropping down a size) and it's a perfect, comfortable fit. I did take her advice on adding to the bottom of the bodice (for the more "mature" figure, yes) but I added 1" instead of the 5/8" she recommends because I was feeling very mature after looking at her picture.  It worked out to be perfect.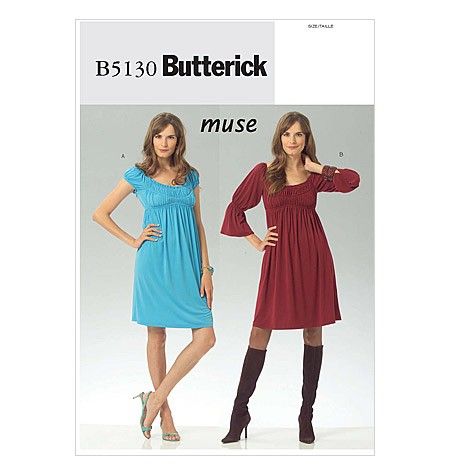 She altered her dress by adding another row of elastic which was such a nice improvement.  But then I saw this version here where the cute, little, skinny (and not "mature") gal added two extra rows and I liked that even better so I did that (using the alteration tutorial from the Very Prairie blog).  My rows aren't evenly spaced but I don't care.  I still love it.  The pattern calls for 3 3/4" yards of 1/4" elastic but because of the two extra rows I ended up using 5 1/2 yards of it for the whole dress (oodles of elastic all over the place in this dress, but not complicated really).
I took care to make sure the sleeves weren't tight because that drives me nuts.
It took about 4.5 hours to make the dress (basically in one sitting) and I tried to be as careful as possible because the knit fabric curls if you stretch it and then it's such a pain to sew with it.  I was keeping my fingers crossed (figurativley speaking since it would've been tricky to sew that way) because you can't try this dress on as your sewing along.  All the elastic goes in near the end of the project and I didn't have a back-up outfit planned for our special dinner-out-with-cool-people.  I finished it with less than an hour to go before we left and it really looked big and saggy.  I steamed the elastic like crazy to get it to contract back after all that stretching and then put the dress on.  Perfect!
I really love this dress!  I love the charcoal grey color because it lets the details of the dress show nicely and I love how comfortable it is.  Next time I will make it a little bit longer (the version on the pattern is pretty short and I had already added around 4"), but all in all I give it a big thumbs up.


I'm definitely making it again and will try to add a built in lining to the skirt.  I'll also go easy on myself and do it in more than one sitting.  Have a great week!