This is when it hit me.  I'm done!  The proof of the pattern pieces showed up and my eyes teared up.  They are beautiful and look like they were made by a real expert.  Crazy.  I could not be happier and the folks at McCall Pattern Company could not have been nicer to work with.  I did all the grading myself.  Someday I hope to be able to pay a professional because my brain still hurts.


I inspected the other proofs and made quite a few corrections and adjustments.  Rookie mistakes I'm figuring.  I left off a vital dimension and fixed a silly spelling mistake too (a huge thanks to Jane at TriState Printing for catching that one).  I thinked I saved myself from having to answer a bunch of emailed questions (sigh of relief!) from frustrated sewists.




Fixed a spelling mistake here.  These ones make my heart flutter.
Here's what the backs of the instruction sheets look like.  I bought the UPC barcodes from some guy under a bridge.  He was wearing a trenchcoat and said they had "just fallen off the truck".  Not really but it sort of felt like it.  I've learned so many things in this process...barcodes....bleedlines...machine folding vs hand folding....who knew?  Not me.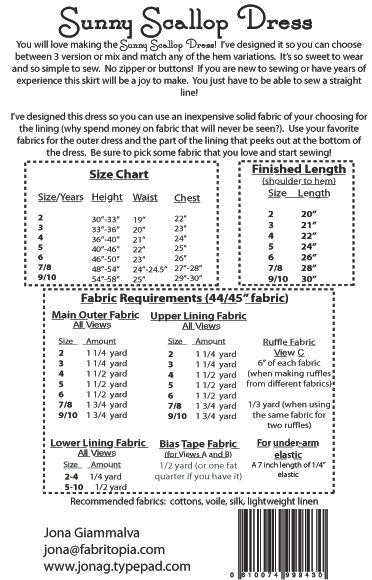 Here's a peek inside.  This is a small part of the Evelyn instructions and by the time I created these images I had a much firmer grasp on Illustrator CS4 than when I started.  My first drawing in illustrator was my simple Shopgirl Apron shape and it just about put me in the loony bin.  Now I'm having fun with it.  Practice practice!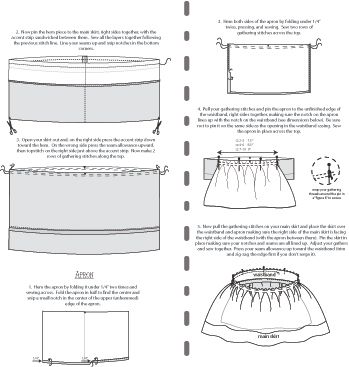 So all these pictures represent a very long and often tear-filled journey. I muddled through my ignorance and learned to be a little more assertive in asking questions even when I knew they would make me look dumb (at least it felt that way). I found out there were things in me that I never knew were there (Those patterns covers! Did I do that? Indeed).  This must be how Peter Parker felt when he realized he could make webs from his fingers.  
These will be ready to ship on Sept. 15th.  I'll put them in the store for pre-sales next week.  Please be sure to join my mailing list (at the top of the right hand column) to get the first notice.  I'll be having a very special give away next week.  :)