Just a quick note:  All fabric at Fabritopia is 35% off and patterns 50% off through July 31st!  Just use coupon code "supersummer10".  :)
We really did a couple of whirlwind days with the kids while in Oregon and I'm, once again, in awe at all that beauty crammed into one place.
A day at the beach.  Way too toasty for my taste (the sand was feet-burning hot).  I prefer rainy walks on the beach but the kids sure had fun and got a little sun-burnt.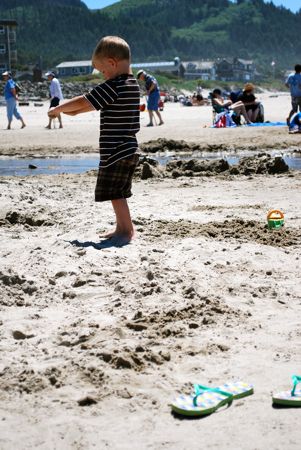 A beautiful drive along the scenic highway up to Crown Point.  This building is gorgeous and a real treasure.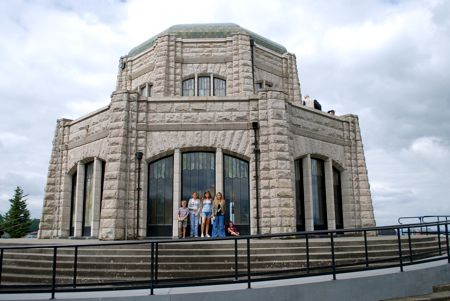 Even the bathrooms are beautiful.  Marble everywhere.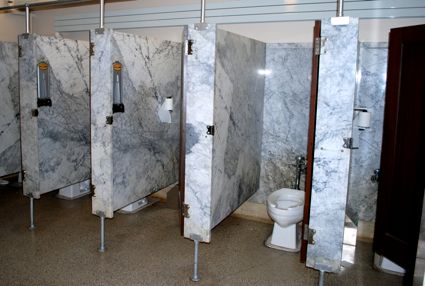 This is the view from up there.  The Columbia river.  Picture Lewis and Clark rowing down that river.  Picture Sacajawea guiding and rowing and translating for them (with a baby on her back!).  She was not afraid to ask for directions.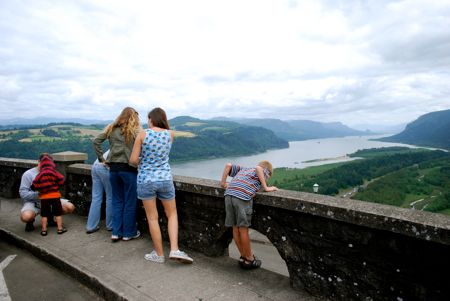 Multnomah Falls.  Stunning.  Yes, it was in the first Twilight movie.  And it's nowhere near Forks in real life (sorry to burst anyone's bubble).  It's a beautiful hike up to the top but we have a 4 year old who said "I want to fly!" when we were on the bridge so there's no way we were going any higher with him.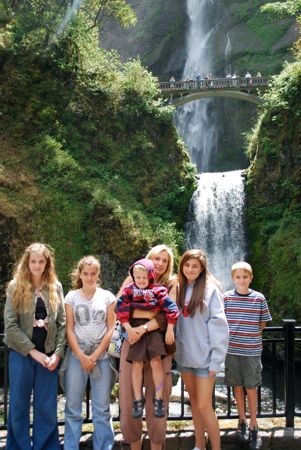 Then we ran down to the Oregon Museum of Science and Industry (OMSI) and the boys really liked it here.  The girls liked it too but not nearly as much as the boys.  When I was a kid they had a 2 headed lamb on display at OMSI.  That's what I remember most.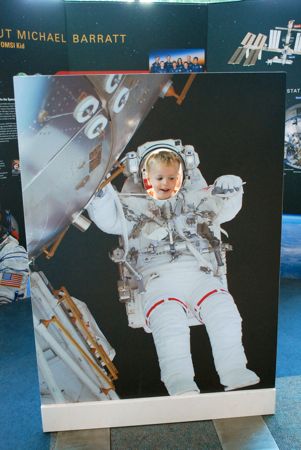 We hit the International Rose Test Gardens on the same day.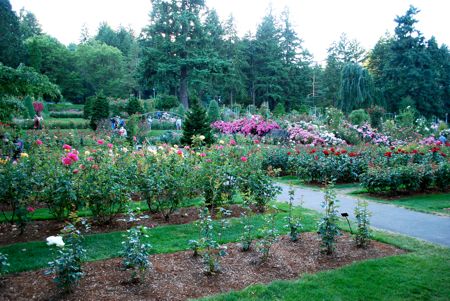 Joey and I spent a lot of time here back before we had kids.  See (dang he looks good after more than 20 years)!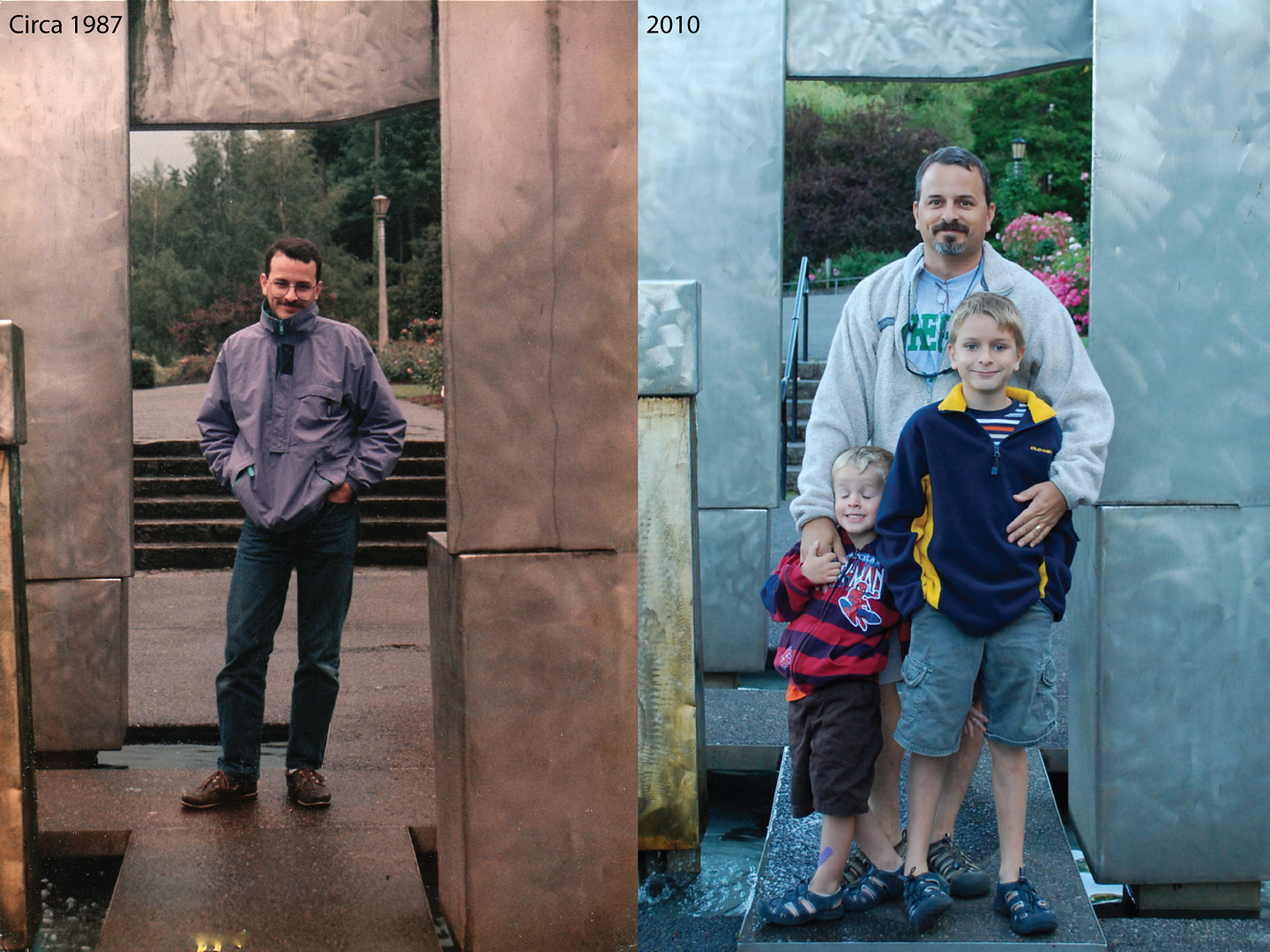 We hit Voodoo Doughnuts twice.  We brought the kids the second time.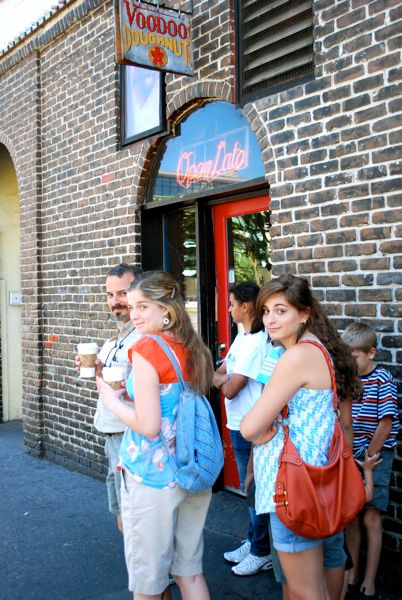 They were happy.  Check out that fritter!  It's bigger than Asher's head!  I love this place but I'm actually glad we don't have it in Arizona.  I don't need that kind of temptation nearby.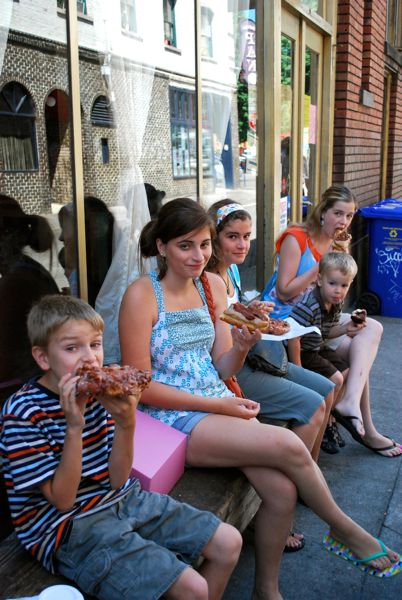 After our doughnuts Joey took the big girls shopping downtown and I took the smaller kids down to the Tom McCall Waterfront Park.  This area used to be a freeway but Tom McCall (best Oregon governor ever) had the freeway moved and replaced with this gorgeous park that stretches the length of downtown Portland.  We spent a lot of time water skiing on this river when I was young.
We took a wonderful ride on my parents boat up the Columbia River too.  We always had at least one boat while growing up, so we spent a lot of our summers here with our friends (many of whom still live there in housboats).  See Mt. Hood?  Gorgeous.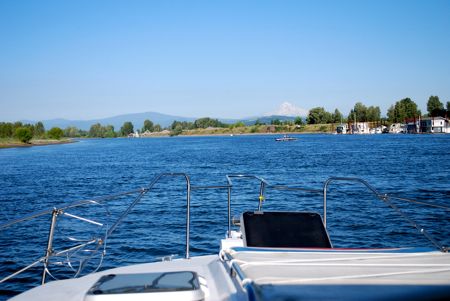 And then there's this.  It's not Oregon without something slimy moving across your path.  I'm just glad I didn't step on this guy (*crunch*).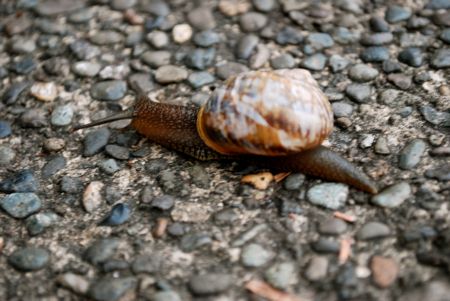 It was such a joy to bring all 5 kids on a beautiful Oregon tour.  I recently found out my ancestors were among the first 50 families to arrive on the Oregon Trail and I want my children to know where they come from.  But honestly, we were thrilled to turn the corner onto our street in Arizona after the long drive.  Home.