Okay, the winner of the bodacious bag o'scraps is Mike Hanson (who only left me an email address and might actually be Mrs. Mike Hanson?).  Yay for scraps!
Thanks for all the nice comments on my skirt!  I even got my own blog post over at Jennifer's blog!  Such a thrill and honor! 
A lot of folks commented here that they've never made skirts and felt that maybe they didn't have the "right type of figure" for it.  Not true!  The problem is not you, it's the pattern!  Patterns almost always need to be adjusted to fit the figure of the person sewing it.  Most of us have lumps and bumps and they're in different places on different folks.  Fit for Real People is one of the best books (maybe it is the best) for getting the perfect fit from your pattern.  They have models in every shape and size in this book and all of them got terrific results.
They have a great section on how to fit a skirt to your tummy or booty.  I have to make longer darts in the back because my rear compartment is flat (thanks Mom!) but other gals have more perk back there so they might need shorter, deeper darts.  This book address it all (plus all the other body parts that need pattern adjustments).  So if you've been putting off sewing clothes for yourself, this book might be what you need.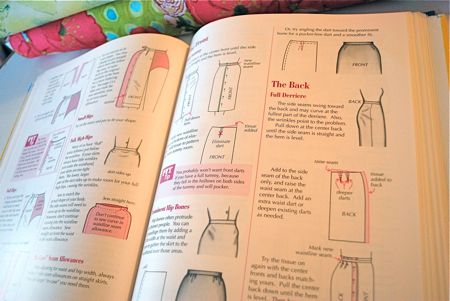 And here are some great links for invisible zipper installation.  Kay Whitt did a great post here.  There's a wonderful video here.  And you can print this out here (I've had it printed and taped above my sewing table for about 4 years now).   You can get an invisible zipper foot at Walmart for about 2 bucks.  It's a cheap plastic one but you'll at least get the hang of it and decide whether you want to invest in a metal one (I think you will!).  Once you realize how easy an invisible zipper is to install you will probably kick yourself for ever being afraid of it. 
Have a great rest of the week!  Tomorrow is the last day of school here so summer vacation is right around the corner!  Yay!