Thank you all for your kind comments and encouragement after my last post!  What a great community we all get to be part of!  A few of you sent me some really great notes pointing out areas where improvement can be made in the store and on the blog and a really appreciate those.  I'm not thin skinned so if anyone else would like to drop me a line I'd love it.  I'm in the process of sprucing up the look of the store and it's a lot of fun but my eyes are getting monitor weary.  Oh, and I'm loving these polls on the side bar!  Who knew??  Any more great poll ideas??
I've had some folks ask about the quilt pattern I used so I thought I'd get a better picture for you.  It's the Spring 2010 edition of BH&G's Quilts and More and it's still in the stores (I saw it at Barnes and Noble today).  It's loaded with lots more great stuff so it's a bargain at 6.99.  I wrote down a lot of notes in it while making this to help me out when I make it again (which I will!).
And while you're at it you need to get this one!!  I love it when you see a picture and know exactly who's work it is.  This bag is the creation of Beki Lambert (Artsy Crafty Babe) and I'm so glad I was able to track down a copy of this one (again Barnes and Noble, they should start sending me commission checks).  Beki's was one of the first craft blogs I started reading.  She finds inspiration in every day things and generously shares it.  Plus she has really cute kids (including a self-hair cutting toddler like mine)!  This magazine was on the end cap so I almost missed it, whew!
And I wanted to share an observation.  The small picture is one I downloaded straight from Moda's site (I added the name to it).  They do a great job providing stores with pictures but I've been told sometimes they only have the paper version of the design to work with (since the final fabric comes out after they post the pictures) so it's not always an accurate representation.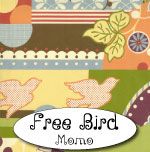 Here's a picture of the same fabric I took today and it's spot on as far as the colors and crispness (at least on my monitor).  So if I can't get the little pictures spruced up to better represent the fabric then I'll be taking pictures of all of them so you can have a better idea of the fabrics true AWESOMENESS!  I'll be doing this with other prints too because I know it's really hard to plan projects and match things up on the internet (this collection goes great with the Ta Dot Apple print by the way).
Anyway, I hope you have a great weekend planned!  Joey is building a great storage system for the boys bedroom and I can't wait to show it off.  Their room is a nightmare right now (and I'm waiting for Febreze to release a "Boys Room" neutralizer spray).  Stay tuned!