Okay, this pretty stack goes to Wendy in Austin (which is having very nice weather!) who left a comment on 3/11 at 8:57 am.  Congratulations Wendy!  This bundle is heading for Texas!  And I know some overseas folks were worried that they weren't included and I just wanted to reassure you that you're not excluded from any give-aways I have if you live outside of the US.  And it was kind of fun knowing what the weather is like on the other side of the world (and in a different hemisphere).  Apparently, for people over here, Spring can't come soon enough!
I bought the
Simplicity 3775
pattern over a year ago and have been full of good intentions.  It has been reviewed over 75 times on
Pattern Review
and it looks flattering on all shapes and sizes!  I always go on Pattern Review if I'm feeling unsure before starting a pattern.  I finally gave it a shot and I really really like it.  You can see a bunch on
Flickr
too.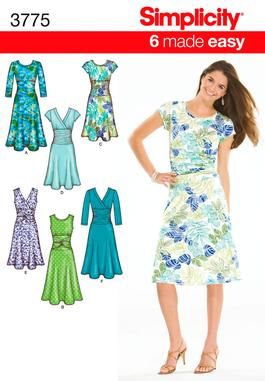 I used view C with the longer length.  I've had this striped knit fabric for awhile and although it's not my favorite I figured it was good for making a practice dress.  So I ended up with a practice dress that I will actually wear (that doesn't always happen around here!).  I made the size 14 (I wear around a size 8 in RTW clothes and I always check my measurements against the pattern since it still throws me off) and the only change I made was to drop the neckline about 1/2 inch because I hate having a neckline that actually touches my neck (makes me very claustrophobic).
The stripes were excruciating to line up because it's a knit fabric and very wiggly so it took a few turns with the seam ripper before I was happy.  I cannot express how much I hate sewing with knits (unless it's just a basic t-shirt) because of the way the edges roll up and the seam never wants to stay straight.  I had to keep unrolling the edges just to make sure my seam allowance was right.  But as much as I hate sewing these kinds of knits I truly LOVE wearing them when it turns out right!  This dress is perfect for a grab and go kind of morning or for taking on a trip.
I'm on the hunt for some great knits now because I went to Joann's and they have an entirely different definition of the word "fashion" as it applies to their Fashion Knit section.   And that's all I'm saying about that.  And don't look too close at my beautiful new compression stockings which I tried to cut out of the photo.  I'm finally trying to deal with my varicose veins and have to wear these things for 3 months before they will even consider doing any surgery.  Apparently the insurance companies think "painful" means "not pretty" and keep those kinds of procedures in their "cosmetic" category.  Seriously, if I wanted cosmetic surgery I would want it a little further north than my legs.  But I'm ready to try jumping through their hoops (again) and if I wear these now then I can be done with them before the Arizona heat really kicks in (and it would be nice if I actually get some relief with them).
Oh, and I finally settled on a blog banner that truly does make my heart sing!  I just needed a butterfly all along.  So there you have it!