A couple of weeks ago I went to the mail box and found a package from Studio Tantrum.  I said "Wow, that was fast.  I don't even remember placing an order."  Well, I hadn't placed an order (another blonde moment to be sure).  I opened it up and the kids all came running to find out what the shrieking was about.  Nancy Langdon, the wonderfully kind genius behind Studio Tantrum, had sent me a copy of her new book Sewing Clothes Kids Love.  I had been planning on getting this book anyway but there's something so amazing about getting something you really wanted without having to ask for it isn't there?
It's just a beautiful book to look at but, more than that, it has 10 full sized patterns in it including two of my favorites, the Insa skirt (here are some of my Insas) and the Feliz dress (seen here, done beautifully by Kristen of Gock's Frocks).  That is incredibly generous of her to put those in there given they sell for around 13.00 and the book is only 24.99 (but a bargain on Amazon right now). 
Here's a little inside peek.  I think the thing I love most about this book is the story of how Sabine Pollehn (the co-author) started the
Farbenmix
(which appropriately means "color mix") company.  It's a story about a mom who wanted to sew beautiful, unique things for her daughter without spending a fortune.  Something so many of us can relate to, right?  Oh and there are a few things for boys in the book too!
And here's another inspiring book worth having!  Lizzy House has written an amazing e-book (download it instantly!) on designing fabric.  This is an absolute must have if you are considering fabric design or just want an insider's peek at the process (this is not your typical e-book!  It's gorgeous and colorful and fun!).  I've had emails from folks telling me they really want to design fabric to supplement their family's income and I hate to reply with the hard reality.  I really think you need to design fabric because you have a passion for it (just like anything you are going to do), because it's rarely the road to riches.  Lizzy addresses that aspect so nicely and explains what most designers do (to make real money!).  That's all I'm going to say except my favorite part is "don't talk smack" about others in the industry.  Mom was right....if you don't have anything nice to say, don't say anything at all.  But I think I'll just tell my kids "don't talk smack".  Words to live by no matter which industry you're in.
Here a look at Lizzy's new line too.  It's so flippin' cute I nearly jumped across the table and hugged the Andover rep at Quilt Market.  Needless to say, I will be getting all of it for
my store
in April.  I know you can't see many details in this picture (darn that Lizzy for holding back on us!) but trust me, it's fabulous!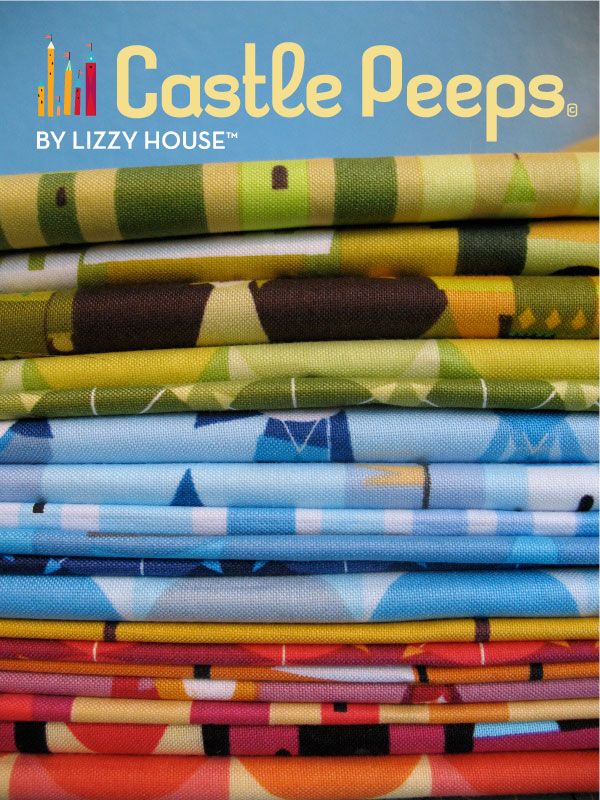 Oh, and one thing I forgot to share on my last post is this great site called Lynda.com.  Go take a look at it because it has HUNDREDS of lessons on most of the digital design software out there.  I have spent hours taking Photoshop, Illustrator, and InDesign lessons there.  A lot of their stuff is free but we have the 25.00 membership (per month) and honestly, it is worth so much more than that. 
I hope you've had a great weekend!  I finally got to sew again and realized my machines are both in need of a tune-up (and were filled with lint, shame on me).  But I did manage to make something pretty anyway (coming soon).  Such good therapy (and cheaper than real therapy)!