Okay, so I thought I was in a "semi-funk" when it turns out I was actually sick. What I thought was a case of the "blahs" was actually a sinus infection creeping up on me. It irritates me that instead of taking care of myself I just assumed I was lazy and was kicking myself for it. Anyway, I went to get a tooth filled and it turns out I need a root canal and since I just had one last fall I'm not happy about it. But I think that's part of the reason my sinuses got all messed up (that happened last fall too). I think the antibiotics (which I try to avoid) are finally starting to make a difference.
I was feeling like crap and had 4 brand new collections show up and tons of orders and I think I'll be caught up by the end of the weekend and then I'll catch my breath (and I didn't cry once). Sigh.
So here's a pretty picture of some fat quarter stacks we are putting together (Full Bloom and Summer Soiree so far). These colors were all so fun and happy.  I haven't been able to work on any projects but I didn't want to do a post without a pretty picture.

And this guy just had his 3rd birthday on Friday.  It seems he just turned 2 but here we are already.  Our temperatures have been around 110 so this is pretty much all he wears these days (lucky!).  I made a new pillowcase for him with David Walkers Oh Boy! fabric and he's very happy with it.  I made a pillowcase for his big brother, Asher, using the Be A Man fabric and he's tickled with it (I'm so grateful for these boy fabrics!).
Wink!

I'll have a better post later (I have some fun projects planned) but for now be sure to run over to True Up because I'm teaming up with Jenna on a give away.  Jenna has a new pdf pattern for a gorgeous bag and I'm providing 25.00 worth of fabric so you can pick your favorite and put together your own bag.  Cool!
Here's the Mabel Messenger bag!  Now I don't have this fabric in stock (dangit!) but I have tons of others right now (seriously bursting at the seams here) so I'm sure you can come up with something. :)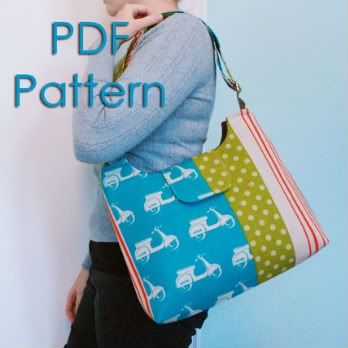 Have a wonderful weekend! I'm going to try to find a friend with a pool and maybe a drink with an umbrella in it.